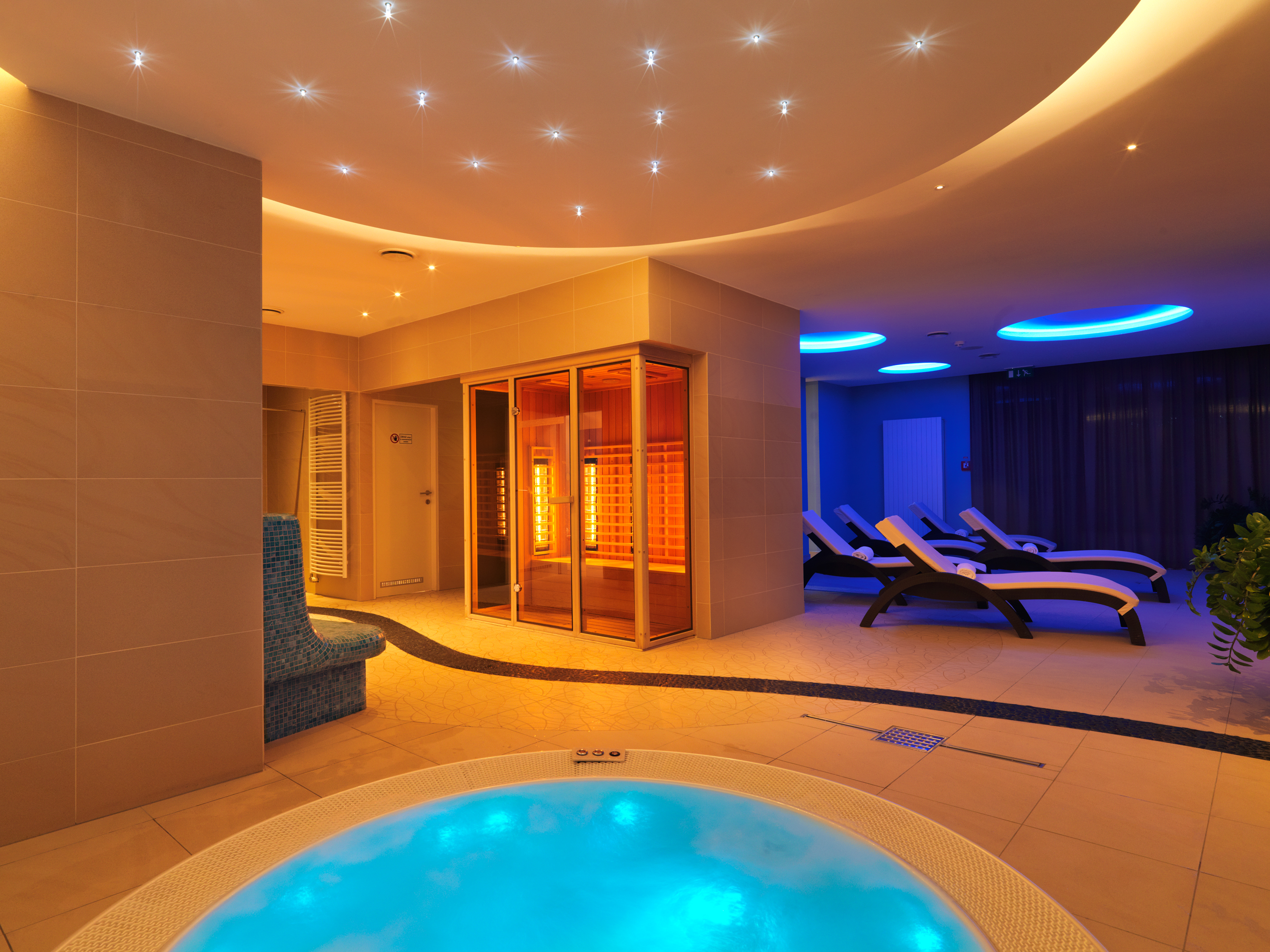 Let yourself be tempted by the idea of perfect relax for your body and mind. Enter the oasis of peace and enjoy a relax to the fullest. Come and find your inner balance again.
FINISH SAUNA
It relaxes the muscles and intensely sweats the whole body cleansing, strengthening the immune system and losing calories. It has healing effects in asthma, inflammation and allergies.
STEAM SAUNA
It detoxifies the body, cleans the lungs and relaxes the whole body pleasantly. It has a beneficial effect on the skin, promotes its elasticity. It helps to remove waste from the body. It is suitable for allergies, colds, rheumatic pains.
INFRASAUNA
The radiation penetrates to a depth of 3-4 cm, helps to eliminate cellulite. Reduces muscle and joint stiffness, relieves pain and tension. It evokes many healing and health benefits in the body. Use is also possible for people who cannot use classic sauna.
WHIRLPOOL BATH
It releases body and soul, brings total relaxation and removes mental tension. The combination of hot water, panache and hydromassage simultaneously improves blood circulation, relieves pain, relaxes muscles and whole body.
COOLING TUB , THE PAIL OF COURAGE
It cools your body after sauna, contributes to blood circulation in every part of your body, strengthens the immune system and hardens. If you don't have the courage to sink into the icy water, try the pail of courage.
OPENING HOURS
Monday – Sunday: 15:00 – 21:00
FOR EXTERNAL GUEST RESERVATION NEEDED!!!
PRICELIST
ACCOMMODATED GUESTS:
10,00€ / adult person
8,00€ / children under 15 years
EXTERNAL GUESTS:
12,00€ / adult person
10,00€ / children under 15 years
Price for two hours entrance to the hotel wellness includes a sail and a towel.
INFO & BOOKINGS
The hotel reserves the right to change the opening hours. For current information on opening hours or availability of hotel wellness please contact the hotel reception: phone: +421 917 403 685, e-mail: recepcia@hotel-green.sk